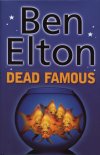 Big Brother meets Agatha Christie in this novel by one of Britain's most famous comedian/social commentators. 10 young people are thrown together for a reality TV show, each of them desperate to become famous and win the half million pound prize up for grabs to the last remaining contestant in the show House Arrest. Throw a murder into the mix and it leads to compelling reality television, terror and suspicion among the remaining contestants and killer ratings for the show's producer.
The story is well-paced, offering insight into the motives of the producers (aptly named 'Peeping Tom') as well as the housemates, and the tactics they employ in order to gain the public ratings/vote. Elton skilfully manages to satirise the strangeness of human fascination with this fabricated situation (there's a hilariously inane bit about the housemates' argument over a piece of cheese) while at the same time weaving a story that's interesting enough to keep the pages turning. I'm personally not a fan of reality TV at all and really hate the Big Brother series, but just when I thought I was above it all, I found that I wasn't really. I became very absorbed into the story and continued to tune it, chapter after chapter, to find out what happens. Just like a Big Brother sucker-devotee. Very clever, Ben Elton.
What makes the book more than just a voyage into voyeurism is the differing perspectives Elton brings to give the plot a fullness that it would have lacked from the rather pathetic and desperate housemates alone. From the producers of the show to the police team who aim to solve the murder case (particularly the old-fashioned, fuddy-duddy lead detective), layer upon layer is carefully constructed to give a page-turning performance that is interesting, humorously observed and ultimately quite ironic.
Rating: 8/10
An all round good read.