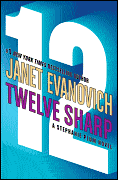 This is the twelfth (mis)adventure of Stephanie Plum, bounty hunter heroine of Trenton. As usual, her personal life is a trainwreck caught between two stations – good-hearted hot cop Joe Morelli and mysterious man of danger, Ranger – and she somehow manages to catch the bad guys based purely on instinct, bravado and street sense.
In this instalment, Ranger's daughter is kidnapped by 'un-Ranger', an elusive wannabe who tries to steal Ranger's identity and life – including his complicated relationship with Stephanie. She's landed (of course) plum in the middle of the whole explosive situation as live bait.
The Stephanie Plum series is a really great read thanks to Janet Evanovich's first person narrative, which is funny, warm and witty. Stephanie Plum herself is a streetsmart, disarming and very endearing character who you just can't help rooting for and laughing at. The plot is plumped up by a whole host of funny secondary characters (like the larger than life Lula and Stephanie's unconventional trouble-prone grandmother) who make the read all the more worthwhile.
For me, the twelfth book is much of the same same, but I imagine many people keep reading Evanovich for that precise reason. I wouldn't mind seeing some resolution on the whole Morelli-Plum-Ranger sexual tension, but this book simply ups the ante, which adds to my frustration. The laugh-out-loud moments are still there, but the laughter is a little muted because I've been there before so many times in the previous books. For those who are as yet uninitiated in the life of Stephanie Plum, Evanovich does a great job of setting the scene so you can start at any book without going from the beginnning. It's worth reading an
excerpt
if you're interested.
Rating: 6.5/10
Lots of action but not enough forward progress.